Bookings Escape Room Barcelona
Important Information: All team members must arrive 15 minutes before the booking time. This is extremely important, because you will need some instructions before the games begins, and you don't want to lose time from the activity.
Location: Diagonal Avenue 111-113, 08005, Barcelona.
Scenario: The Mystery of the Manor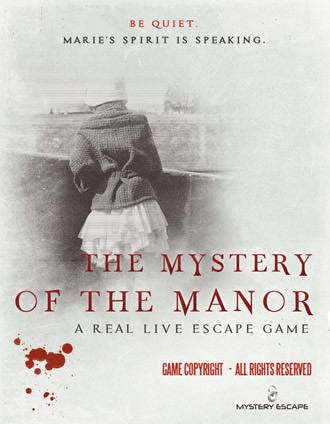 Prices*
Prices and timetable (09h-13h from Monday to Thursday) – Including VAT
Team of 5 – 16€ / player
Team of 4 – 18€ / player
Team of 3 – 22€ / player
Prices and timetable (15h-21h from Monday to Thursday and 16h-22h from Friday to Sunday) – Including VAT
Team of 5 – 20€ / player
Team of 4 – 22€ / player
Team of 3 – 24€ / player
* Prices for companies, contact-us
To know our schedules and book, first you have to choose the number of players from your team and click on "Book". After that, choose a room and again click on "Book". Select the time of your preference, if it's not available, you can check the availability of other rooms in which you can play the same game. Next, click in "1 hour".
LAST-MINUTE bookings
We close our onlinebooking 24 hours before a timeslot. Even though the timeslot is not availabe online, we might be able to offer a booking. If you want to book within the next 24 hours, please call 93 013 64 19 or write an email to barcelona@mysteryescape.es
Payment with credit card via Paypal
We are using the Paypal platform in order to process the payment, however there is no need to create a Paypal account. To make the payment with credit card, just click on "Pay Now" and then choose the option "Check Out as a Guest".